Christmas Message from PAWA Chair of the Trustees
A huge "well done and thank you!" message to all PAWA benefactors, volunteers, supporters and trustees for their hard work and commitment over the past twelve months.
We have been under great pressure in the past few years, and I am extremely proud of the way we at PAWA have managed throughout.
I have had many opportunities throughout the last year to work alongside our teams, project partners and projects. Emerging from Covid lockdowns at the start of the year and transitioning into a more structured platform with stronger governance within PAWA, it was wonderful to see this evolving stage of PAWA and all the exciting changes that came with it.
The spirit, determination and compassion of our volunteers has been very moving and it makes me very emotional to think of the sacrifices that they have made to ensure our project beneficiaries experience minimal impact during the Covid situation.
Volunteering is not an easy task for it brings with it commitment not to just for the causes themselves but above all the commitment to oneself to a cause.
Charity comes from a Latin word Caritas meaning "love". It is one of the three Christian theological virtues: "So faith, hope, love remain, these three; but the greatest of these is love" (1 Cor 13:13).
So Charity is about an individual. It is not about what one gives or what one has. It is about what a person is.
At PAWA, we are very fortunate to have volunteers who truly understand what these entail. We are 100% volunteers and are very proud of it but with it comes expectations on us all to be hands on in every initiative in every step of the way.
I just wanted to end this message by saying, that on behalf of the PAWA Board of Trustees, I would like to wish everyone a joyful and peaceful Christmas and hope that the New Year will bring prosperity, health, growth, and recovery for us all.
AZLINDA ARIFFIN-BOROMAND
Chair, Board of Trustees
PAWA
22 DECEMBER 2022
Projects Update

PAWA Project partners JMB Educational Fund in Nepal are getting into the festive spirit with some lovely Christmas messages plus a video specially for PAWA : 
– A YouTube video from SXG https://youtu.be/I44kRrYSAt4 
We also have a very touching letter from our first SJMF scholar, Priyanka who is studying Law at Kathmandu University School of Law.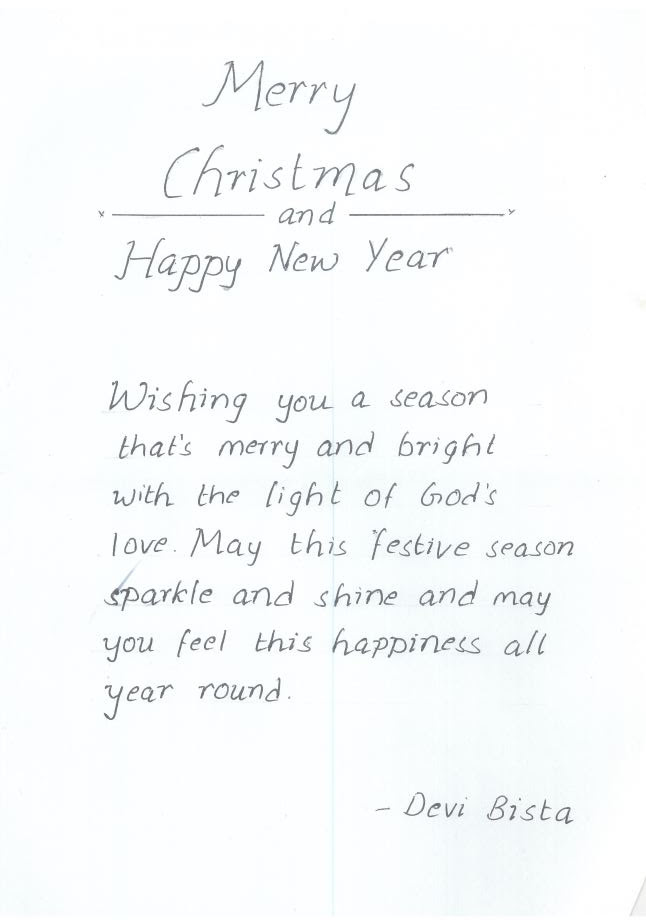 Past Events

PAWA Jam 2021
On the 6th of December 2022, we held our annual PAWA Arts Jam in London. There were musical performances by up and coming musicians Ankit Madhira and Nush (who had everyone singing along!), a stand up comedy set by Pravanya Pillay and a showcase of artwork ranging from painting to photography, the event was well attended and a resounding success! Many thanks to all aforementioned performers as well as Lin Wei-Lun and Daisy Agawarl for their gorgeous artwork, and of course to our communications team for organising. 
Leading up to the event we held a poetry competition for our PAWA girls, with the top selected poems read out on the night by some of our volunteers. A massive congratulations to Khadijah Arshad, Misbah Shahzadi and Syeda Seerat Satima for their winning poems and a special mention to Khadija Emaan, Maheen Sayeed and Ammara as well. We are so proud and honoured to have been able to read out such beautiful work and to print it here.

PAWA POETRY SLAM 2022 – TOP 3. 
NAME : Khadijah Arshad
CLASS: 8th 
TEACHER : Miss Muzamil Mehmood 
SCHOOL : CARE Adopted Govt Girls Higher Secondary School Bagbanpura, Lahore

Being a woman is human
I breath , smell, eat and drink
I like , dislike , feel and think
I can shine more brightly
I can work more perfectly
I can bring balance to the world If one day..
I will be treated equally 

Name :Misbah Shahzadi Class : 8th 
Teacher : Ms. Muzamil Mahmood 
School : CARE Adopted Govt Girls Higher Secondary School Singhpura, Lahore, 

I dream of a leader 
Many came and went 
Some were noble and sinful 
I dream of one 
Who brings the change 
Who assists the people 
Who regards the poor 
Who renounces the high value 
Who treats with equality 
Who leads in the hard times 
Who brings ease to the lives 
Who changes the world 
I dream of a leader 

Name: Syeda Seerat Satima. Class: 9th
Teacher : Miss Muzamil Mehmood
School : CARE Adopted Govt Girls Higher Secondary School Singpura, Lahore

Changes in world are transpiring today 
For the better or worse
Who can say?
Sometimes they can be a little bizarre 
Or sometimes leave with a dreadful scar 
Maybe it just has to be this way 
When the changes occur, 
The poor have to pay. 
But, after every dusk, 
There is a dawn.
The good days will come 
 
Bad days will be gone. 
Changes don't stop your flight
They come and go,
you must take your height
Changes in world are transpiring today 
For the better or worse, 
Who can say? 

PAWA POETRY SLAM 2022 – SPECIAL MENTION

Name : Khadija Emaan 
Class: 4th
Teacher : Ms.Duaa Gul
School : CARE Adopted Govt. Girls High School Nabi Park, Lahore.

Unless we find ways more sustainable The future will not be attainable.
And children will ask
were we up to the task? 
But our action will not be explainable 

Name: Maheen Sayeed
Class: 5th
Teacher : Ms.Fazila Fiaz
School : CARE Adopted Govt.MC Primary School Tibbi Hariya.

I can change, 
dark into light. 
I can change, 
pain into gain. 
I can change, 
bad into good. 
I can change, 
cry into smile. 
Everything changes, 
with a change. 

Name: Ammara
Class: 4th
Teacher : Ms.Duaa Gul
School : CARE Adopted Govt. Girls High School Nabi Park, Lahore.

I watched a little caterpillar walking up a tree and wondered how that worm would look
if he were dressed like me
I think his mother would complain 
if she had shoes to buy
cause by the time she tied them all
he'd be a butterfly!
SAVE THE DATE

 PAWA Annual Meeting 2023
15th March 2023
6 PM to 9.30 PM
The venue for PAWA Annual Meeting is as below:
Withers Worldwide LLP
20 Old Bailey
London
EC4M 7AN