Thank you to everyone for supporting the PAWA@10 Charity Gala Dinner.
We could not have done it without you!  

Well done to the PAWA@10 Gala Committee, headed by Betty Yao and Mandy Chiu,
who worked tirelessly for 20 months. It was an amazing evening to mark our 10th
Anniversary as well as to celebrate the UN Day of the Girl.We raised close to £185,000,
which means that PAWA will be able to ensure more girls will have the benefit of
education and we can work towards reaching the United Nations' 2030 Sustainable
Development Goals for gender equality and education. A special thank you to all the
silent auction donors and winners as well as the PAWA Pledgers who helped us reach
our target and beyond! Ying Cheng did an excellent job of coordinating the auction
and pledges.
Gala committee with Sung Joo Kim
Every aspect of the evening was so memorable but the entertainment was really special.
From the superb all female "Jagat Gamelan Jawa" troupe – sponsored by the Indonesian
Embassy – who greeted our guests on arrival, to the wonderful organ playing by Melissa
Chang, followed by the 50 strong Cambiata Girls' Choir who sang an uplifting medley of
songs. The evening ended on a high note with Stephanie Van Driesen and her dance
band!
Our joint MCs Ayesha Hazarika and Sajeela Kershi did an incredible job of bringing the
evening together. What a brilliant showcase of female talent!  A big thank you to our
Stage Managers  Gee Hae Kim and Shuang Teng for keeping everyone on track!
Gee and Shuang also worked with Mingyu Lin on the new PAWA Film which launched at
the Gala.
Here is a link to it : https://youtu.be/Kidm50qra7A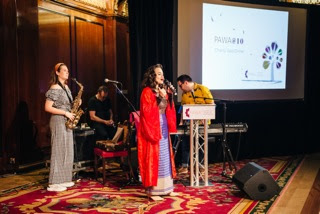 MCs Ayesha Hazarika & Sajeela Kershi
The historic and splendid venue of Merchant Taylors Hall was further enhanced by Marina
Chan who created table runners in stunning Asian fabrics with gorgeous flowers by Judith
Blacklock. The PAWA Treasure tree added to the wonderful  atmosphere as well as to the
fundraising – thank you to Sybil Poon and all the donors. The PAWA helpers from St Paul's Girls'
School were an invaluable addition to the evening and added a wonderful touch of "PAWA orange"
everywhere!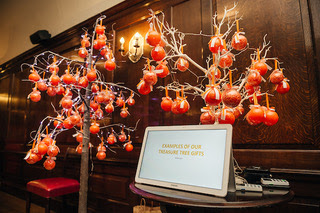 Finally a big thank you to our Founder and Lead sponsor, Sung Joo Kim, for her generous
support throughout the last 10 years. We were also very honoured to have Baroness Patricia
Scotland give the Vote of Thanks and speak about the importance of girls' education in
benefitting not just the girls but the whole world.
                                                                                      Sung Joo Kim 
Baroness Patricia Scotland
It was a wonderful start to our PAWA@10 year and we have lots of other celebrations planned
so do join us at a future event – details below!
Thank you and warm wishes,
Zehan Albakri
Chair of the PAWA Management Committee
PAWA@10 Charity Gala Dinner